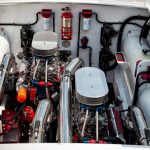 When we think of racing engines, our minds often drift towards images of high-performance cars tearing up the track. However, the world of racing engines extends beyond land vehicles and reaches into the realm of boats. In this blog post, we will take a dive into the fascinating history of racing engines in boats, exploring the evolution of power and speed on the water.
1. The Early Days:
Racing on water has a long history, dating back to the early 19th century. Steam-powered boats were some of the earliest vessels involved in racing, with competitions taking place in various parts of the world. These boats featured crude and heavy engines, but they laid the foundation for future developments in racing engines for boats.
2. The Birth of Outboard Motors:
The early 20th century marked the birth of the outboard motor, and with it, the introduction of racing engines specifically designed for boats. Manufacturers like Evinrude and Mercury began producing lightweight, powerful outboard motors that revolutionized the boating industry. These motors allowed smaller boats to reach higher speeds and participate in racing competitions.
3. The Rise of Hydroplane Racing:
Hydroplane racing gained popularity in the 1920s and 1930s, especially in the United States. Hydroplanes are specialized boats that utilize the principle of planing, which allows them to skim across the water's surface. As hydroplane racing grew in popularity, so did the demand for more powerful and efficient engines. Manufacturers, such as Allison and Rolls-Royce, developed engines specifically for hydroplane racing, featuring supercharged V12 engines capable of producing incredible amounts of power.
4. The Age of Inboard Engines:
While outboard motors remained popular for smaller boats and recreational use, the racing scene saw a shift towards inboard engines. Inboard engines are mounted inside the hull of the boat, offering better weight distribution and stability. These engines, often V8 or V12 configurations, were capable of producing massive amounts of horsepower, propelling the boats to impressive speeds. Marine engine manufacturers, such as Mercury Racing and Volvo Penta, competed to produce the most powerful and reliable racing engines for inboard applications.
5. The Advent of Gas Turbines:
In the pursuit of even greater speed, the racing industry turned to gas turbine engines. Gas turbines offered unparalleled power-to-weight ratios, with the ability to produce massive amounts of horsepower in a compact package. Gas turbine-powered boats, also known as turbine hydros, were capable of reaching speeds upwards of 200 miles per hour. Companies like Lycoming and General Electric manufactured gas turbines specifically for racing applications.
6. Modern Advances:
In recent years, advancements in technology have continued to push the boundaries of racing engines in boats. Lightweight materials, such as carbon fiber and titanium, have allowed for more efficient designs and improved performance. The development of electronic fuel injection systems and advanced engine management systems has further enhanced the power and reliability of racing engines. Today, boats equipped with high-performance engines, be it outboard motors or inboard configurations, are capable of reaching mind-boggling speeds and dominating racing competitions worldwide.
Conclusion:
The history of racing engines in boats is a testament to mankind's pursuit of speed and performance on the water. From the steam-powered vessels of the 19th century to the gas turbine hydros of today, the evolution of racing engines has pushed the limits of what is possible in terms of power and speed. As technology continues to advance, we can only imagine the exciting developments and record-breaking performances that lie ahead in the world of racing engines in boats.
Got Questions? Let Us Help!
Locally owned and operated, Rezurxn Speed Marine can meet all of your race engine needs. Whether you are in the market for a single component or ready to purchase a completely custom-designed and built late-model engine, we are here to fulfill your needs. We specialize in the complete design and development of custom boats and jets, hot rods, race engines, rebuilds, automotive repairs, and MORE! Contact us today to check us out and for your FREE estimate!