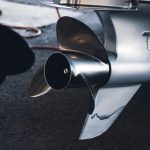 Upgrading your boat from an outboard motor to an inboard motor can be a significant decision that will have a profound impact on your boating experience. While outboard motors have their advantages, inboard motors offer a different set of benefits that may appeal to certain boaters. In this blog post, we explore the key factors to consider when making the transition from an outboard to an inboard motor.
1. Boat Size and Hull Design
One of the first considerations when upgrading to an inboard motor is the size and hull design of your boat. Inboard motors are typically found in larger boats, such as cruisers, yachts, and cabin boats. These boats have the structural strength and space to accommodate the engine and its components. If you have a smaller boat, it may not be suitable for an inboard motor due to the size and weight of the engine.
Additionally, the hull design of your boat can impact the performance and stability of an inboard motor. Inboards are generally better suited for deep-V hulls, as they provide better handling and stability. It's essential to consult with a boating professional or boat manufacturer to determine if your boat can accommodate an inboard motor based on its size and hull design.
2. Performance and Handling
Another crucial consideration is the performance and handling characteristics of the boat with an inboard motor. Inboards offer a different driving experience compared to outboards. The weight distribution and location of the engine affect the boat's stability, speed, and maneuverability.
Inboard motors provide better balance and weight distribution, which can lead to improved handling and a more stable ride. The weight of the engine is concentrated towards the middle or rear of the boat, resulting in better maneuverability and control. The propeller is also underwater, reducing the possibility of propeller cavitation and providing a smoother ride.
However, it's worth noting that inboards may not offer the same level of top speed and acceleration as outboards, especially in smaller boats. The horsepower-to-weight ratio of outboards typically exceeds that of inboards. If speed and acceleration are critical factors for your boating needs, it's essential to evaluate the performance trade-offs before making the switch.
3. Maintenance and Accessibility
Maintenance and accessibility are significant considerations when transitioning to an inboard motor. Outboard motors are known for their accessibility and ease of maintenance since they are mounted on the transom of the boat. In contrast, inboard motors require a more involved maintenance process due to their location within the boat.
With inboard motors, you need to access the engine through a hatch or compartment, which may involve removing seats, flooring, or other components. This can make routine maintenance tasks, such as oil changes or spark plug replacements, more time-consuming and potentially more expensive if you rely on professional services.
Before upgrading, it's crucial to assess your comfort level with performing maintenance on an inboard motor and consider if you have the necessary tools, knowledge, and resources to do so. Additionally, it's wise to factor in the cost of potential maintenance or parts replacements if you prefer to rely on professionals.
4. Fuel Efficiency and Fuel Tank Placement
Fuel efficiency is a factor that may influence your decision to upgrade to an inboard motor. In general, inboard motors tend to be more fuel-efficient than outboards due to their design and the ability to optimize the engine for specific boat sizes and uses. They can provide better fuel economy at cruising speeds and during long-distance trips.
However, it's important to consider the fuel tank placement and capacity when upgrading to an inboard motor. Unlike outboards, which typically have built-in fuel tanks, inboards rely on separate fuel tanks that are often installed within the boat. This may impact the available space for storage or seating, and you may need to allocate sufficient space for the fuel tank placement during the upgrade process.
5. Cost and Budget
Finally, it's essential to consider the cost implications of upgrading from an outboard to an inboard motor. In general, inboard motors tend to be more expensive than outboards due to their complexity and the additional components required for installation. The cost can include the engine, transmission, propeller, exhaust system, and associated accessories.
Additionally, the installation process may involve structural modifications to your boat, such as reinforcing the transom or creating an engine compartment. Professional installation and associated labor costs should also be factored into your budget.
Before making the upgrade, it's crucial to evaluate your budget and determine if the investment in an inboard motor aligns with your boating needs and financial capabilities.
Conclusion
Upgrading from an outboard to an inboard motor is a significant decision that requires careful consideration. Boat size, hull design, performance, maintenance, fuel efficiency, and budget are all key factors to evaluate before making the switch. Assessing your specific boating requirements and seeking expert advice will ensure that you make an informed decision that enhances your boating experience.
Got Questions? Let Us Help!
Locally owned and operated, Rezurxn Speed Marine can meet all of your race engine needs. Whether you are in the market for a single component or ready to purchase a completely custom-designed and built late-model engine, we are here to fulfill your needs. We specialize in the complete design and development of custom boats and jets, hot rods, race engines, rebuilds, automotive repairs, and MORE! Contact us today to check us out and for your FREE estimate!